The number against each surname below can be found on the churchyard plan here The Parish Church Graveyard
Many of the gravestones are very worn and it has not yet been possible to give full inscriptions but we are still working on them! Where just a number or word is illegible, questions marks have been used. Otherwise 'more inscription' shows that we have more to do.
---
10   Dale, Louisa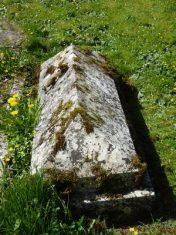 To the beloved memory of Wallace Edwin Porter died 21st August 1925 aged 81 years
My grace is sufficient for thee
The word of the Lord endureth forever
Also Emily Porter died January 9th 1933 aged 88 years
God is faithful
Also of Louisa Dale her sister died April 4th 1915 aged 72 years interred at Reading
---
91   Dickman, Edmund
In memory of ye Rev. Mr. Edmund Dickman who was 53 years minister of this parish.
During a long course of years he followed Bishop Hackett's motto, serve God and be chearfull; his conversation being always easie, pleasant and inoffensive; ye result of a virtuous and sincerely religious life: not desirous of honours; content rather to deserve than obtain them. As he lived a life of religion and virtue, so his end was peace; his departure being in ease as if ye oil of his lamp was spent.
He died in ye 80th year of his age September 25th, 1735.
---
157   Driver, Henry
In memory of Henry Driver died March 25th 1799 aged 83 years
More inscription
---
60   Durbin, Frederic Jeanes, Sarah Cooper & William
In loving memory of Frederic Jeanes Durbin 40 years vicar of this parish who died November 15th 1888 aged 73 years
Also of Sarah Cooper Durbin widow of the above who died May 26th 1891
Will Durbin died Aug 20 1866 age 15 years
More inscription on cross
---
61   Durbin, Elizabeth Ann
In loving memory of Elizabeth Fishbourne daughter of the late William Cooper Esq of Carlow County and widow of the late Joseph Fishbourne Esq of Straw Hall County Carlow Ireland who departed this life May 21st 1876 aged 80 years
Her children rise up and call her blessed God is done In this was manifested the love of God toward us because that God sent his only begotten son into the world that we might live through him
Elizabeth Ann Durbin granddaughter of the above died 25th Sept 1919
A succourer of many Romans 16.2
---
36   Edgell, Albert Charles William & Alvinia Thomasin
In loving memory of Alvinia Thomasin Edgell died 14th December 1951 aged 73 years and
Albert Charles William Edgell died 16th March 1965 aged 84 years
---
89   Ellis, Elizabeth
In affectionate remembrance of Elizabeth Ellis who died Sept 22 1882 aged 85 years
Weep for thee Oh no we cannot All thy painful vigils over Thou hast gained the peaceful haven ?????? safe on glorys shore
---
159   Ellis, Joseph
In loving mrmory of Joseph Ellis died ?? Nov 1865 aged 71 years
More inscription 
---
81   Finch, Mary
Sacred to the memory of Mary the wife of Mr Thomas Finch of this place who died 21 May 1823 age 50 years
---
78   Finch, Sarah
In memory of Sarah Finch the wife of the late Mr Thomas Day Finch of Eversden who died at Cambridge February 1 1871 age 76
---

82   Finch, Thomas Day         
Sacred to the memory of Mr Thomas Day Finch died January 8 1835 age 63
---
77   Finch, Thomas Day
Sacred to the memory of Mr Thomas Day Finch late of the Berton St Islington near London who died September 9 1860 aged 69 years
---
61   Fishbourne, Elizabeth,
In loving memory of Elizabeth Fishbourne daughter of the late William Cooper Esq of Carlow County and widow of the late Joseph Fishbourne Esq of Straw Hall County Carlow Ireland who departed this life May 21st 1876 aged 80 years
Her children rise up and call her blessed God is done In this was manifested the love of God toward us because that God sent his only begotten son into the world that we might live through him
Elizabeth Ann Durbin granddaughter of the above died 25th Sept 1919
A succourer of many Romans 16.2
---
129   Freeman, Chalice
In memory of Chalice Freeman died April 30th 1796
More inscription 
---
21   Freestone, Elizabeth
In loving memory of Elizabeth Freestone died Jan 1st 1910 aged 56 years